Evolutionary Journey Begins
The first session of 2013's new work was held mid-February. Focusing on a path from Creation to Creativity, the first session embraced stories of Creation, stories of Love, and stories of Joy.
The next session is April 5-7 in Ashland, Oregon, and will look at the wonders of Beauty, Inspiration and Imagination.
You can join the journey. Know you will be welcome.
Read more about An Evolutionary Journey HERE
Sacred Theatre In 2013
The Power of Story meets
The Fullness of Being
We live by story.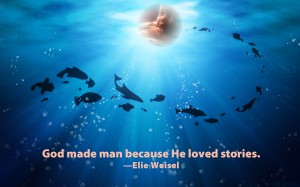 We believe stories. We tell stories to ourselves. We tell stories to others.
Stories challenge us; stories evolve us. We pay attention to stories.
They create a cauldron of plenty that sustains us in hours of sorrow and pain, exalt us in hours of joy and delight. Now and again we notice how stories are related to one another. Sometimes we stir ancient stories of creation and world-making into this cauldron; sometimes we discover or make up delicious stories of love and desire, and add them to our storehouse/cauldron.
However we play with stories we find they can open doors to the land of the soul and illumine pathways to healing, to wisdom, to the fullness of Being. That's our goal for Sacred Theatre in 2013. Finding ways to the Throne of Being through the power of story.
We will gather stories, enact stories, honor stories, inspire new stories, change stories.
You're invited.
Three Workshops
* May in Michigan, May 3-5
(For information contact Sandy Ladd,
ladd88888@aol.com)
* October in New Jersey, 10-14 and 17-20
(Patti Kaufman pattik.mac@me.com)
* November in Oregon, November 21-24
(Trish Broersma, Epohna@aol.com)
To register for the Ashland Sacred Theatre, send registration fee $299 to Peggy Rubin, 323 Oak Street, Ashland, OR 97520
Climb on the Social Artistry Bandwagon
Not too early to plan for Summer Social Artistry in Ashland, Oregon. August 2-12, 2013 are the dates for all the Social Artistry activities, including a summit, congress, and training. jeanhoustonfoundation.org